JoAnn Falletta is delighted to assume her first European post this fall, as Principal Conductor of the
Ulster Orchestra
. She will be the first American and the first woman to lead the Orchestra, which is considered to be one of the most important roles in the arts and cultural life of Northern Ireland.  
JoAnn will conduct the orchestra for the first time as its Principal Conductor in Ulster Hall on Wednesday September 21, 2011. She will have eight engagements with the orchestra in her first season of her three-year contract, conducting a quarter of the main season programs. She will also lead the orchestra in select regional concerts and other events. The orchestra has a unique exclusive broadcast partnership with BBC, under which its concerts are recorded and streamed for internet broadcasts on BBC Radio 3, Radio Ulster and BBC TV.  
JoAnn Falletta says, "The Ulster Orchestra is one of the great orchestras of Ireland and the UK and has been a cornerstone of cultural life here in good times and bad for many, many years now. It is a huge honor for me to become its Principal Conductor." Ms. Falletta conducted the orchestra for the first time last year during their BBC Summer Invitation Concerts, and returned in January of 2011. She says "it had been nothing short of a 'wonderful experience'. "I loved the spontaneity and energy of the musicians and I am so looking forward to exploring a repertoire that is both rich and diverse over the upcoming season."  
Making the announcement, the Ulster Orchestra's Chief Executive, Declan McGovern said, "We have within our ranks some of the most talented musicians you'll find in any orchestra in Ireland and UK. Bringing JoAnn Falletta into the mix as our Principal Conductor, an inspiring artistic leader with an international reputation and great track record, will not only continue to help the Ulster Orchestra to reach new heights, but new audiences as well."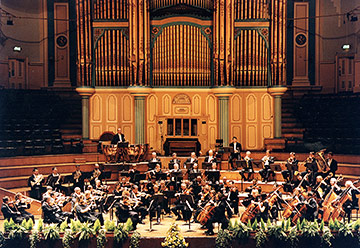 The Ulster Orchestra, based in Belfast, is a cornerstone of cultural life in Northern Ireland, with a mission of "enriching life through music". It employs 63 full-time musicians as well as 18 administrative staff. Since its formation in 1966, the Orchestra has established itself as one of the major symphony orchestras in the United Kingdom. Its main concert season takes place in the Ulster Hall and the Belfast Waterfront, and it is a lynch-pin of the Belfast Festival at Queen's. It has accompanied opera and ballet productions at Belfast's Grand Opera House. The Orchestra has made tours of Europe, Asia and the USA and its performances can be heard internationally through streamed internet broadcasts under its unique relationship with the BBC.