As Principal Conductor of the
Ulster Orchestra
, JoAnn Falletta is the first American and the first woman to lead the Orchestra, which is considered to be one of the most important roles in the arts and cultural life of Northern Ireland.  
This season, JoAnn will conduct many of the main season programs and select regional concerts and other events. Highlights of her tenure, which began in 2011, include making her Proms debut with the Orchestra in August 2012 and establishing a multi-year recording contract for the orchestra with Naxos. Under that agreement, Naxos released the Orchestra's critically acclaimed discs of music of Gustav Holst in 2012 and Ernest John Moeran in 2013. This year, JoAnn and the Ulster Orchestra recorded a second Moeran disc and music of John Knowles Paine, to be released in the fall of 2013. In the
2013-14
season, the Orchestra will record four additional CDs for Naxos, including a second disc of music of Johns Knowles Paine, and music of Victor Herbert, John Field and Samuel Coleridge Taylor.  
JoAnn Falletta says, "The Ulster Orchestra is one of the great orchestras of Ireland and the UK and has been a cornerstone of cultural life here in good times and bad for many, many years now. It is a huge honor for me to be its Principal Conductor. I love the spontaneity and energy of the musicians and I am so completely enjoying exploring a repertoire of Irish and other music that is both rich and diverse."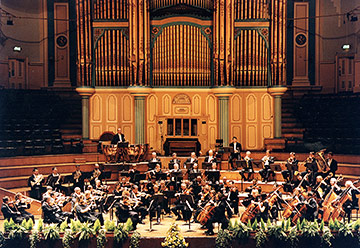 The Ulster Orchestra, based in Belfast, is a cornerstone of cultural life in Northern Ireland, with a mission of "enriching life through music". Since its formation in 1966, the Orchestra has established itself as one of the major symphony orchestras in the United Kingdom. Its main concert season takes place in the Ulster Hall and the Belfast Waterfront, and it is a lynch-pin of the Belfast Festival at Queen's. It has accompanied opera and ballet productions at Belfast's Grand Opera House. The Orchestra has made tours of Europe, Asia and the USA and its performances can be heard internationally through streamed internet broadcasts under its unique relationship with the BBC.