BPO 'Rocks The House' in Carnegie Hall Performance
 
As they took the stage at ornate, lovely Carnegie Hall, the Buffalo Philharmonic Orchestra's musicians were pumped like the Bills before a big game. They were primed to tackle the massive Symphony No. 3 by Reinhold Gliere, a work rarely performed because of its outrageous demands. The musicians' hard work was worth it, because the effect was magical.
 
Read the Full Review in the Buffalo News, May 9, 2013 Edition

 
JoAnn On WCBS Opening Bell Report Week of May 6th
 
In anticipation of the Buffalo Philharmonic's Carnegie Hall performance for the Spring for Music Festival on Wednesday, May 8, JoAnn will appear on WCBS Opening Bell Report throughout the week of May 6. The WCBS segments will air within the Opening Bell Report beginning Monday May 6 and air throughout the week at approx. 9:51am ET. Each segment can be retrieved from cbsnewyork.com/openingbell after it has been broadcast.


 
JoAnn and the Buffalo Philharmonic Orchestra at Carnegie Hall, Wednesday May 8th
 
Spring for Music and Carnegie Hall will present the Buffalo Philharmonic on Wednesday, May 8 at 7:30pm. JoAnn and the Buffalo Philharmonic will perform an all Russian program of GIYA KANCHELI: "Morning Prayers" from Life Without Christmas and REINHOLD GLIÈRE's monumental Symphony No. 3 in B minor, "Il'ya Muromets". Tickets, which may be purchased at www.carnegiehall.org, are going quickly. The BPO plans to bring more than 1500 hometown fans to the concert, breaking the Spring for Music record for hometown ticket sales. The concert will be broadcast live on Spring For Music media partner Classical 105.9 WQXR FM and will be available online for on-demand streaming at www.wqxr.org after the performances.
 
More Info


 
JoAnn Appointed Principal Guest Conductor of The Phoenix Symphony
 
The Phoenix Symphony's Board of Directors announced the appointment of Maestro JoAnn Falletta as The Phoenix Symphony's Principal Guest Conductor for the 2013/14 season. "We are fortunate to have someone of Maestro Falletta's stature and standing in the orchestral community join us as our Principal Guest Conductor," said C.A. Howlett, Chairman of The Phoenix Symphony Board of Directors. "Our partnership with Maestro Falletta speaks volumes about the ability of The Phoenix Symphony to engage the world's foremost musical talents for the benefits of Arizona audiences," said President and CEO Jim Ward. Falletta will conduct four programs during The Phoenix Symphony's 2013/14 Classics Series, Coffee Classics Series and Scottsdale Series as well as Lang Lang's special one-night-only performance at Symphony Hall.


 
JoAnn to Receive Virginia Women in History Award
 
The Library of Virginia has announced it will honor JoAnn Falletta, along with seven other awardees—past and present—with the Virginia Women in History Award. The honor recognizes outstanding Virginia women who have made important contributions to Virginia, the nation, and the world. A ceremony and reception will be held at the Virginia Library in Richmond at 6pm on Thursday, March 28, 2013.
 
More Info


 
JoAnn Falletta talks to Gail Wein about her new Duke Ellington CD
 
Listen as JoAnn Falletta talks with Gail Wein for this Naxos podcast about her recording with the Buffalo Philharmonic of Duke Ellington's music for orchestra. The recording brings together Ellington's Harlem, Three Black Kings, The River, and Black Brown and Beige and includes as an encore the Ellington band's iconic theme song, Take the A Train. JoAnn calls Duke Ellington one of the greatest artists of the 20th century, and a composer who single–handedly elevated jazz to a level of artistry comparable to all the other art forms, saying "The music is very beautiful; it's very symphonic, very orchestral."
 
Listen


 
Tim Handley, Producer of Many Falletta Naxos Recordings, Nominated for 2013 Producer of the Year Grammy Award
Body of Work Cited for Nomination Includes Four Recordings with Falletta
 
December 13, 2012: JoAnn Falletta congratulates producer Tim Handley on his nomination for the 2013 Producer of the Year Grammy Award. The body of work for which he is being nominated includes four recordings on the Naxos label with Maestro Falletta leading four different orchestras. Says Falletta, "I have always been very proud to work with Tim Handley, whose musicianship, intelligence and extraordinary recording skills have always produced CDs of superb quality. I am thrilled that four of our recordings are included in the body of work for which he has been nominated for a GRAMMY as best producer." The 2013 honors will be handed out at a ceremony in Los Angeles on February 10.
 
Mr. Handley's Naxos collaborations with JoAnn Falletta that are cited for the nomination are Ken Fuchs: Atlantic Riband, American Rhapsody, Divinium Mysterium (JoAnn Falletta, Paul Silverthorne, Michael Ludwig & London Symphony Orchestra); Gershwin: Piano Concerto In F; Rhapsody No. 2, I Got Rhythm Variations (Orion Weiss, JoAnn Falletta & Buffalo Philharmonic Orchestra); Hailstork: An American Port Of Call (JoAnn Falletta, Virginia Symphony Chorus & Virginia Symphony Orchestra); and Holst: Cotswolds Symphony, Walt Whitman Overture (JoAnn Falletta & Ulster Orchestra). According to the category description guide for the 52nd Grammy Awards, the award is presented to album producers "whose recordings, released for the first time during the eligibility year, represent consistently outstanding creativity in the production of classical recordings." Mr. Handley, who won Producer of the Year in 2006, was nominated in 2011 for recordings that included music of Dohnanyi and Richard Strauss by the Buffalo Philharmonic and JoAnn Falletta. Their upcoming collaborations include a disc of music of Duke Ellington by JoAnn Falletta and the Buffalo Philharmonic scheduled to be released on the Naxos label in February 2013.
 
More Info About the Grammy Awards


 
Mannes College and BPO Partner to Give Student Conductors Real World Experience
 
Mannes College The New School for Music and the Buffalo Philharmonic Orchestra have announced a unique and innovative partnership to give up-and-coming conductors professional experience with a leading American orchestra. Student Conductors-in-Residence from Mannes College will serve as cover conductors for the Philharmonic, and will have the opportunity to participate in artistic decisions and orchestra management. For the BPO and Mannes this partnership is an important evolution in the curriculum for training conductors.
 
"We feel strongly here at the BPO about our role to help advance the careers of young musicians and our partnership with Mannes represents a major breakthrough," said BPO Music Director JoAnn Falletta, who received her undergraduate degree from Mannes. "The young conductors of Mannes will have an outstanding opportunity to work directly with our conductors, staff and musicians to gain the type of real world experience that will definitely make a difference in their careers."
 
More Info


 
JoAnn's "Musician's Diary" featured in August Gramophone
 
JoAnn is featured in Gramophone's August edition of "Musician's Diary", where she describes her joy in recording the little known works of Gustav Holst with the Ulster Orchestra for Naxos, and in exploring the charms and history of her new UK home in Ulster.
 
Read the Article


 
Turkish Guitarist Wins 2012 JoAnn Falletta International Guitar Concerto Competition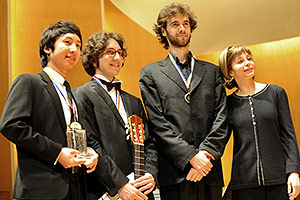 From left - Ekachai Jearakul of Thailand, Celil Refik Kaya, first prize winner from Turkey and Petrit Ceku of Croatia.

Celil Refik Kaya, from Instanbul, Turkey was named first prize winner at the finals of the 2012 JoAnn Falletta International Guitar Concerto Competition held at Kleinhans Music Hall in Buffalo, NY Saturday night, June 9. Mr. Kaya, who at 20 years old was the youngest contestant in the competition, is currently studying at Mannes College with Michael Newman. He played the NY premier of Robert Sierra: Folias, with the composer in attendance.
 
Petrit Ceku, of Croatia, came in second, and Ekachai Jearakul, of Thailand, was third.
 
Kaya's prize is $10,000, a valuable Spanish guitar, a return performance with the Buffalo Philharmonic and engagements with the Round Top Music Festival in Texas and the Virginia Symphony.
 
Ceku took the $3,500 second prize, and Jearakul took the $1,000 third prize. Ceku won musicians and audience awards as the top guitarist in separate voting.
 
Says JoAnn Falletta, "All three finalists were fabulous. The quality of this year's competition was top notch and I think the best ever. I am looking forward to Celil's performances with Buffalo, Virginia and Round Top."
 
The next JoAnn Falletta Guitar Competition will be held in 2014, at which prizes for the winner will include a performance at Carnegie Hall.
 
More Info


 
2012 JoAnn Falletta Guitar Concerto Competition Draws International Attention to Buffalo
 
Eight international guitarists, including performers from Budapest, Istanbul, Serbia and Toronto, will be competing June 6th and 7th in the 5th annual JoAnn Falletta International Guitar Concerto Competition in Buffalo. The competition is presented by WNED and the Buffalo Philharmonic Orchestra. The semifinalists' performances will be aired on WNED-TV at 7:30pm.
 
The final top three will perform with the Buffalo Philharmonic Orchestra at Kleinhans with Falletta conducting on June 9th.
 
Listen as WBFO & AM-970'S Eileen Buckley speaks with Falletta about why this competition attracts guitarists globally.
 


Listen       More Info
 
JoAnn Falletta Guitar Competition


 
JoAnn Falletta leads VSO and Over 500 performers in Rare Performance of Mahler's Eighth Symphony
 



The Virginia Symphony performs Mahler's 8th Symphony. Photo: David Polston.
 
On May 26 and 27, 2012, JoAnn Falletta led a cast of over 500 musicians in two performances of the rarely performed and awe-inspiring epic 8th Symphony of Gustav Mahler to standing ovations at William and Mary Hall and Chrysler Hall in Virginia. Dubbed the "Symphony of a Thousand", the work is rarely performed because of the vast musical resources required; Mahler himself considered it his crowning achievement, describing his vision as the sound of "the whole universe beginning to ring and resound..." The Virginia Symphony, augmented for the occasion to 120 musicians, performed with eight vocal soloists and 365 choristers including the Virginia Symphony Chorus, the Christopher Newport University Chamber Choir, the College of William and Mary Chorus, Old Dominion University Concert Choir, Richmond Symphony Chorus, Virginia Children's Chorus and the Virginia Wesleyan Chorus. The performance was critically hailed as "incredibly moving and musically magnificent", calling Falletta's control over the massed musicians and vocalists "masterful and total", and the performance "a natural for this year's Virginia Arts Festival which routinely brings to Hampton Roads world-class artistic events that most of us would otherwise never see." Hear why JoAnn believes this work is so remarkable.
 

Watch Video


 
JoAnn to Receive Honorary Degree from Hilbert College
 
JoAnn will deliver the 2012 commencement address at Hilbert College's 51st annual commencement ceremony being held at 1pm May 12 in the Wesleyan Church of Hamburg, NY. She is honored to be recognized at Hilbert's commencement with an honorary doctorate of humane letters.
 
Falletta has previously received honorary degrees from several national and international colleges and universities, including the Manhattan School of Music and D'Youville College (2009), Virginia Wesleyan (2008), The New School in New York City and the College of William and Mary (2007), Niagara University (2001), Canisius College and Christopher Newport University (2000), Old Dominion University (1994), and Marian College (1988).
 
More Info


 
JoAnn Receives Leis from Hawaii Symphony Musicians to Celebrate Inaugural Season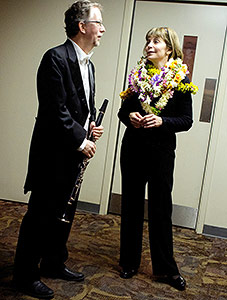 JoAnn with Norm Foster
Photo: Ruth Shiroma Foster

JoAnn Falletta received gifts of leis from the musicians of Hawaii Symphony Orchestra following her first concerts with the orchestra in its inaugural season on April 6 and 7, 2012. Falletta, who is serving as Artistic Advisor for the new Orchestra, has been working with a dedicated group of Hawaii business leaders following the bankruptcy filing of the 110-year old Honolulu Symphony, which played its final concert in December 2009. Audience members, the orchestra musicians and the entire community cheered the return of symphonic music to Hawaii in a concert that featured violinist Chee Yun performing Mendelssohn's Concerto for Violin, Rimsky-Korsakov's Russian Easter Overture, and Tchaikovsky's 5th Symphony, at the Neal S. Blaisdell Concert Hall in Honolulu.
 
In a recent news release issued by the Hawaii Symphony Orchestra, Oswald Stander, the orchestra's Board Chair said: "It is our belief that having a symphony orchestra organization in Hawaii is critical to the state's artistic and economic vitality." He continued, "We are all thrilled to be making the dream of a new orchestra a reality."
 
More Info


 
JoAnn Records Music of Moeran with the Ulster Orchestra for Naxos
 
On February 5 and 6, 2012, the Ulster Orchestra, under the direction of Principal Conductor JoAnn Falletta, recorded a CD of works by one of the greatest English composers of the 20th century, Ernest John Moeran, in Ulster Hall in Belfast. The CD brings together four lesser known pieces that are all inspired by the beauty of the scenery of Norfolk and County Kerry. The heart of this new Naxos CD is Moeran's stunning and poignant Cello Concerto, gorgeously played by young cellist Guy Johnston. The CD also presents little known gems including Moeran's tribute to the music of sixteenth-century composer Thomas Whythorne, the lilting Whythorne's Shadow, his Serenade, and the first recording of the original version of Moeran's lovely tone poem, Lonely Waters.
 
This is the second of three CD the Ulster Orchestra will record this season under the Orchestra's new multi-year recording agreement with Naxos. The first CD, which was recorded at the orchestra's historic Ulster Hall on October 11 and 12, will include five important Holst works, including his beautiful Cotswolds Symphony, the Japanese Suite, the Walt Whitman Overture and the first uncut recordings of A Winter Idyll and Indra. A disc of the music of Irish composer, Ina Boyle, a student of Vaughan-Williams, will be recorded this spring.
 
More Info


 
JoAnn and the BPO Inspire a Classical Spin on Sports
 
Loyola basketball coach, Jimmy Patsos, gave his team a winning edge, according to the Baltimore Sun, after being inspired by JoAnn Falletta and the Buffalo Philharmonic. The Baltimore Sun quotes Coach Patsos as saying: "Last night, I went to the Buffalo symphony, where they have a great conductor, Joann Falletta, and that is what we talked about before the game," coach Jimmy Patsos said after the win. "I told them that it is the whole orchestra that matters, not just one instrument."
 
More Info


 
2012 JoAnn Falletta International Guitar Concerto Competition
 
Applications for the 2012 JoAnn Falletta International Guitar Concerto Competition are being accepted through April 1. For the first time in its history, the semi-finals will be broadcast from the WNED studios in downtown Buffalo on WNED-TV, airing on June 6th and 7th at 7:30pm The competition is presented by WNED and the Buffalo Philharmonic Orchestra and honors BPO Music Director and acclaimed classical guitarist JoAnn Falletta. The competition finals are scheduled for Saturday, June 9 on the Kleinhans Music Hall Main Stage. The three semifinalists will compete in a full performance with the BPO under the direction of Maestro Falletta. Finalists compete for an outstanding package of prize money, a concert tour and a Hernandez Jimenez concert guitar. Artists who are interested in competing are encouraged to visit fallettacompetition.org for information about application requirements.
 
More Info


 
Washington Post picks Pärt CD as Best of 2011
 
Anne Midgette, classical music critic for the Washington Post, named JoAnn's Part CD of piano music, with soloist Ralph van Raat and the Netherlands Radio Chamber Philharmonic on the Naxos label, as one of her top 5 classical discs of 2011.
 
Anne Midgette's Best Classical Music of 2011


 
Washington Post picks Pärt CD as Best of 2011
 
Anne Midgette, classical music critic for the Washington Post, named JoAnn's Part CD of piano music, with soloist Ralph van Raat and the Netherlands Radio Chamber Philharmonic on the Naxos label, as one of her top 5 classical discs of 2011.
 
Anne Midgette's Best Classical Music of 2011


 
JoAnn Guest Hosts on Sirius XM Thanksgiving Week
 
Listen in to Symphony Hall on Sirius-XM Satellite Radio Channel 76 on Thursday night, November 24 at 8pm (EST) and Saturday afternoon, November 26 at 1pm (EST) to hear JoAnn taking the mike as DJ. JoAnn previously hosted the show on Sirrius this past July, and enjoys the opportunity to play some of her favorite works and connect with the world-wide audiences that are fans of Symphony Hall.


 
Ulster Orchestra Enters into New Naxos Recording Relationship
 
JoAnn Falletta and the Ulster Orchestra entered into an exciting new multi-year recording relationship with Naxos. The first disc, recorded in October at the orchestra's historic Ulster Hall, includes five lesser known, but important Holst works, including his beautiful Cotswolds Symphony, the Japanese Suite, the Walt Whitman Overture and the first uncut recordings of A Winter Idyll and Indra.
 
More Info


 
JoAnn Falletta Takes the LSO into Studio to Record Music by Kenneth Fuchs for Naxos American Classics
 
JoAnn Falletta returned to the historic Abbey Road Studios this past August with the London Symphony Orchestra and Grammy Award winning producer Tim Handley to record her third disc of works by Kenneth Fuchs for Naxos American Classics. Two of the five works feature instrumental soloists, Paul Silverthorne performing viola concerto, Divinum Mysterium, and Michael Ludwig performing American Rhapsody, a romance for violin. The disc also includes Fuch's Concerto Grosso for String Quartet and String Orchestra, Atlantic Riband, and Discover the Wild. JoAnn's first disc of music by Kenneth Fuchs received two Grammy Award nominations.
 
More Info


 
League President Jesse Rosen Commends BPO Leadership
 
In his blog, League of American Orchestras President, Jesse Rosen, recently highlighted the BPO as an orchestra that is not just surviving but thriving in these tough times.
 

Watch Video


 
JoAnn Falletta Guest DJs on Sirius-XM
 
JoAnn will be a guest DJ on Sirius-XM Symphony Hall Friday, July 8 at 9pm and Saturday, July 9 at 4pm. Tune in to hear JoAnn playing some of her own recordings and tell some of her favorite stories from the podium.
 
More Info


 
JoAnn Falletta Named Artistic Advisor to the New Hawaii Symphony
 
Drawing on her expertise as a conductor, audience builder and community leader, JoAnn is becoming one of the top conductors being called upon to help orchestras that are in financial crisis. Last year, the International Conference of Symphony and Opera Musicians passed a resolution thanking JoAnn for her support of theHonolulu Symphony musicians, when that orchestra declared bankruptcy. Having served on an exploratory committee with other business and arts leaders looking for ways to reinstate an orchestra in Hawaii, JoAnn has agreed to serve as artistic advisor to a new Hawaiian orchestra that plans to start performing this fall. Under the new name Hawaii Symphony Orchestra, the former musicians of the Honolulu Symphony intend to play the first concert of a new season in October.
 
More Info


 
BPO wins ASCAP Award
 
The Buffalo Philharmonic received a 2010-2011 ASCAP Award for Adventurous Programming at the League of American Orchestra's Annual Meeting on June 14, 2011. The orchestra was also awarded second place nationally for Programming of Contemporary Music. The BPO was cited for its successful marriage of newer pieces by the likes of John Corgiliano with more traditional works as part of its regular programming.
 
More Info


 
JoAnn Falletta Named Norfolk's "Downtowner of the Year"
 
The Downtown Norfolk Council named JoAnn Falletta "Downtowner of the Year" for 2011. The award was made at the organization's annual luncheon on June 1.
 
"It is particularly fitting that we honor Ms. Falletta this year as she is celebrating her 20th anniversary serving as Conductor of the VSO", said Donna Phaneuf, Chairman of the Board, Downtown Norfolk Council. "With her commitment to excellence, she has helped solidify downtown Norfolk's role as the region's cultural center."
 
More Info      
Watch the Video


 
JoAnn Falletta appointed Principal Conductor of the Ulster Orchestra
 
The Ulster Orchestra of Belfast, Ireland has appointed JoAnn Falletta as Principal Conductor, making her the first American and first woman to lead the orchestra. The announcement was made on May 9 as Ms Falletta took to the Ulster Hall stage in Belfast, Northern Ireland to conduct the orchestra at the launch of its new concert program for the 2011-2012 Season. JoAnn Falletta will conduct the orchestra for the first time as its Principal Conductor at a special pre-Season Taster Concert in Ulster Hall on Wednesday September 21, 2011. She will have eight engagements with the orchestra in her first season of her three-year contract, conducting a quarter of the main season programs. She will also lead the orchestra in select regional concerts and other events. The orchestra has a unique exclusive broadcast partnership with BBC, under which its concerts are recorded and streamed for internet broadcasts on BBC Radio 3, Radio Ulster and BBC TV.
 
More Info


 
JoAnn Signs New VSO Contract
 
JoAnn has renewed her contract as Music Director of the Virginia Symphony for another three years with an option to serve for two more years after that. JoAnn is delighted to continue her leadership of the orchestra, saying Virginia "was my first big orchestra. The musicians, the orchestra and I nurtured each other, and the community nourished us so we flourished, becoming the mature orchestra we are today."
 
More Info


 
JoAnn Falletta Receives University of Buffalo's Highest Award
 
JoAnn Falletta received the Chancellor Charles P. Norton Medal, University of Buffalo's highest award, during the University's 165th general commencement on May 15. The Norton medal is presented annually in public recognition of a person who has, in Norton's words, "performed some great thing which is identified with Buffalo ... a great civic or political act, a great book, a great work of art, a great scientific achievement or any other thing which, in itself, is truly great and ennobling, and which dignifies the performer and Buffalo in the eyes of the world." In its press release, the University cites many of Maestro Falletta's accomplishments as support for the award, including her work with the BPO, the BPO's recording and touring accomplishments under her direction, collaborations with other nonprofits in the Western New York community, work with student and educational groups and the long list of national and international recognition and awards she has received as a conductor. "I am thrilled with this extraordinary honor" says JoAnn Falletta. "The Buffalo Philharmonic and I are proud of our relationship with the University of Buffalo, and we feel privileged to live and work in a community that is home to such a superb educational institution. This recognition really is a tribute to the value of the Philharmonic to our region, and to the deep love the community holds for our orchestra."
 
More Info


 
JoAnn Appointed Principal Guest Conductor of the Brevard Music Center
 
JoAnn has been appointed Principal Guest Conductor of the Brevard Music Center through the 2013 season. As Principal Guest Conductor she will conduct at least two programs each season. "JoAnn Falletta is a major American musician. She is also a superb mentor to our students and a great friend to the Music Center," said Keith Lockhart, BMC Artistic Director and Principal Conductor. "With JoAnn onboard in a formal capacity, our program will only grow stronger."
 
Read the Article


 
Virginia Symphony Celebrates 20 Years Under JoAnn's Leadership
 
On March 19, 2011 the VSO celebrated JoAnn Falletta's 20th anniversary with the orchestra with a "Roaring 20"s party at the Sheraton Norfolk Waterside Hotel. As David Nicholson of the Daily Press noted: "The theme of the party recalls the era when the 90-year-old orchestra first came into being. But few would argue that its most significant growth has come during the past two decades. Under Falletta's stewardship, the orchestra has made numerous recordings, reached new audiences through residences in newly built performing halls in Newport News and Virginia Beach, and expanded its reach beyond Hampton Roads with performances in Northern Virginia, Washington, D.C., and Carnegie Hall in New York City."
 
More Info from the Daily Press
More Info from The Virginian-Pilot
 
BPO signs Falletta for 5 more years, Orchestra Invited to Perform at Carnegie Hall
 
The Buffalo Philharmonic Orchestra announced that Music Director JoAnn Falletta has agreed to a new contract that will guarantee her leadership through the 2015-2016 season. "As we finish a year celebrating the glorious history of the BPO over the past 75 years, our attention is now turned to the future. We can think of no better way to begin the next chapter in the life of the BPO than with another five years under the leadership of Maestro Falletta" says Board Chair Cindy Abbott Letro. Added JoAnn, "I am delighted to be continuing my relationship with the musicians of the Buffalo Philharmonic, with executive director Daniel Hart and with our board and staff. In difficult times for orchestras, the BPO has emerged as a beacon of artistic and administrative excellence. I am excited that we will spend the next five years together, representing the City of Buffalo and Western New York on the highest musical level. On a personal level I am very happy to continue to live and work in a city I deeply love, and to be a part of an exciting future with our extraordinary BPO family."
 
Abbott Letro also announced that the orchestra will be returning, by invitation, to Carnegie Hall. The performance, scheduled for May 8, 2013, is part of the Spring for Music Festival.
 
More Info


 
Four Recordings by JoAnn Falletta and the Buffalo Philharmonic Receive Grammy Nominations for Classical Producer of the Year
 
JoAnn Falletta congratulates producers Blanton Alspaugh and Tim Handley, both of whom received multiple Producer of the Year, Classical, Grammy Awards for 2011, including two each for their Naxos recordings with Ms. Falletta and the Buffalo Philharmonic Orchestra. Mr. Alspaugh received six nominations, including Corigliano: Violin Concerto 'The Red Violin' (Michael Ludwig, JoAnn Falletta & Buffalo Philharmonic Orchestra) and Tyberg: Symphony No. 3; Piano Trio (JoAnn Falletta & Buffalo Philharmonic Orchestra). Mr. Handley's twelve Grammy nominations include Dohnányi: Variations On A Nursery Song (JoAnn Falletta, Eldar Nebolsin & Buffalo Philharmonic Orchestra) and Richard Strauss, Josephs-Legende; Rosenkavalier; Die Frau Ohne Schatten (Orchestral Suites) (JoAnn Falletta & Buffalo Philharmonic Orchestra). Says JoAnn Falletta: "The BPO has truly enjoyed working with producers Blanton Alspagh and Tim Handley. Both men are superb artists who have helped create a legacy for the Buffalo Philharmonic through the CDs they have recorded for us for NAXOS.The musicians and I congratulate both Tim and Blanton on their much-deserved nominations."
 
The recording partnership between Naxos and JoAnn and the Buffalo Philharmonic has been extremely successful artistically, with nine Grammy nominations in the past 5 years. Last year, Blanton Alspaugh was also nominated for Producer of the Year, Classical for his work on the BPO's recording of Schubert , Death and the Maiden. In 2009, JoAnn's recording of John Corigliano's Mr. Tambourine Man: Seven Poems of Bob Dylan (Hila Plitmann, soprano, JoAnn Falletta; Buffalo Philharmonic Orchestra) (2008, Naxos 8.559331) received two Grammy Awards in the categories of Best Classical Vocal Performance and Best Classical Contemporary Composition. In 2008, Falletta's recording with the Buffalo Philharmonic of Respighi: Church Windows, Brazilian Impressions, Rossiniana (2007, Naxos 8.557711) received a nomination for Best Engineered Album, Classical for work by recording engineer John Newton. In 2006, Thomas Stacy, English Horn soloist on Ms. Falletta's recording of Eventide, Concerto for English Horn, by Kenneth Fuchs, (2005, Naxos 8.559224) received a Grammy nomination in the category of Instrumental Soloist Performance with Orchestra.
 
The 53rd Annual Grammy Awards will take place at the Staples Center in Los Angeles on February 13, 2011 and will be broadcast live on CBS.
 
More Info


 
Virginia Pays Tribute to JoAnn Falletta on 20th Anniversary as VSO Music Director
 
Montague Gammon III and Rob Cross, Executive Director of the Virginia Arts Festival, write a tribute to JoAnn Falletta in Veer Magazine to celebrate her 20th anniversary as Music Director of the Virginia Symphony. Rob Cross writes: "Over the past 20 years JoAnn Falletta has become an icon in our community. To look back and see what our orchestra has accomplished under her leadership is astounding."
 
Read Article


 
JoAnn Falletta elected to Buffalo Music Hall of Fame
 
JoAnn has been elected to the Buffalo Music Hall of Fame. The public is invited to attend the gala celebration in Bufalo's Tralf Music Hall on October 7.
 
More Info


 
The Buffalo Philharmonic Orchestra Celebrates 75 Years
 


2010-2011 Season Also Commemorates the 70th Anniversary of Kleinhans Music Hall and
10th Year of Naxos Recordings with Star-Studded Programs,
Four New Recordings and Special Collaborations

 
The Buffalo Philharmonic Orchestra celebrates its 75th Anniversary with the 2010-2011 Concert Season. At the season opening gala concert Maestro JoAnn Falletta and the BPO will pay tribute to the great history of the orchestra, performing the same music led by Lajos Shuk, for the opening concert of its very first season, in the Elmwood Music Hall in 1935: Beethoven's "Egmont" Overture.
 
"I'm proud to celebrate the BPO's 75th Anniversary and to be a part of the incredible history of this remarkable orchestra," said Music Director JoAnn Falletta.
 
The season's opening concert will feature a return engagement of violinist Midori. Other soloists for the season include pianist Lang Lang, who will make his first appearance with the BPO, pianist Christopher O'Riley, cellist Lynn Harrell, soprano Laura Aikin and violinist Michael Ludwig.
 
The Orchestra kicked off the diamond anniversary season with the artistically and financially successful five city "Florida Friends Tour" in March 2010. Four new Naxos releases are planned, including the BPO's much anticipated first disc in a multi-year recording project of the music of holocaust victim Marcel Tyberg, as well as recordings of works of Josef Suk, George Gershwin and Duke Ellington. In special recognition of the 75th anniversary, the orchestra will release a five-disc set of music from the BPO vaults that will showcase the sound of the orchestra with eight of its music directors, including Ms. Falletta, Willaim Steinberg, Josef Krips, Lukas Foss, Michael Tilson Thomas, Julius Rudel, Semyon Bychkov, and Maximiano Valdes.
 
Other special projects to commemorate the anniversary include publishing a 75th Anniversary Book, titled "The Buffalo Philharmonic Orchestra: Prelude, Theme and Variations", the production of a commemorative calendar and 75th Anniversary library display featuring the orchestra's history.
 
More Info


 
JoAnn Falletta In Conversation with John Clare of KPAC, Texas Public Radio
 
JoAnn Falletta sat down and spoke with John Clare of KPAC of Texas Public Radio about education, music, the Grammy Awards, and new music. Filmed on location in Round Top, Texas on June 20th, 2009. Find out more at classicallyhip.blogspot.com
 


 
JoAnn Falletta featured on CBC Radio's flagship national arts and culture show Q, with Jian Ghomeshi
 
JoAnn Falltta speaks with Jian Ghomeshi of CBC's national arts and culture show Q about the glass ceiling for women in the world of conducting.
 


 
JoAnn Falletta Recording Receives Two Grammy Awards
 
February 9, 2009: Acclaimed conductor JoAnn Falletta's recording of John Corigliano's Mr. Tambourine Man: Seven Poems of Bob Dylan (Hila Plitmann, soprano; JoAnn Falletta; Buffalo Philharmonic Orchestra) (2008, Naxos 8.559331) received two Grammy Awards for 2009 in the categories of Best Classical Vocal Performance and Best Classical Contemporary Composition. Says Falletta: "We are all thrilled with these awards. It is such an honor for me and the Buffalo Philharmonic to have the opportunity to collaborate with John Corigliano and Hila Plitmann. John's music is incredibly innovative and moving and the performances on this recording by Hila and the Buffalo Philharmonic are stunning."
 
JoAnn Falletta and the Buffalo Philharmonic are in the midst of working on a multi-CD project with John Corigliano for Naxos, with the next release to include Phantasmagoria and the Red Violin Concerto with the BPO's concertmaster, Michael Ludwig. Falletta's recording with the Buffalo Philharmonic of Respighi: Church Windows, Brazilian Impressions, Rossiniana (2007, Naxos 8.557711) was also nominated this year for Best Engineered Album, Classical for work by recording engineer John Newton. She received her first Grammy nomination in 2006 in the category of Instrumental Soloist Performance with Orchestra for her recording of Eventide, Concerto for English Horn, by Kenneth Fuchs (2005, Naxos 8.559224). Next month, Naxos will release two world premier recordings by Falletta and the BPO, including Daron Hagen's opera Shining Brow, based on the early years of Frank Lloyd Wright and a disc of two 'new' works by Franz Schubert, featuring the completion of Schubert's beloved "Unfinished Symphony" and a newly orchestrated transcription of Death and the Maiden.
 
Maestro Falletta has introduced over 400 works by American composers, including more than 80 world premieres. Hailing her as a "leading force for the music of our time", the American Society of Composers, Authors and Publishers honored Falletta with her 10th ASCAP award in 2008. This fall, she was appointed as a member of the National Council on the Arts, the advisory body of the National Endowment for the Arts. In addition to serving as Music Director of both the Buffalo Philharmonic and the Virginia Symphony, she is frequently invited to guest conduct many of the world's great symphony orchestras, including the Philadelphia Orchestra, Los Angeles Philharmonic, Dallas Symphony, Rotterdam Philharmonic, London Symphony Orchestra, the Montreal Symphony Orchestra and the National Symphony.
 
More Info


 
JoAnn Falletta Appointed to the National Council on the Arts
 
JoAnn Falletta has been appointed to be a Member of the National Council on the Arts, the advisory body of the National Endowment for the Arts. The United States Senate confirmed President George W. Bush's nomination of JoAnn Falletta to serve on the NCA on October 3, 2008 for a term extending through September 3, 2012. The National Council on the Arts advises the NEA Chairman on programs and policies. Council members review and make recommendations to the Chairman on grant applications, funding program guidelines, and national initiatives. Members are chosen for their widely recognized knowledge of the arts, their expertise or profound interest in the arts, and their established record of distinguished service or achievement in the arts. "I am very excited to have been appointed to serve on the NCA, and look forward to having the opportunity to promote the importance of the arts in America", says JoAnn.
 
More Info


 
Press Quotes

One of the finest conductors of her generation.
The New York Times

One of the brightest stars of symphonic music in America.
Los Angeles Times

Falletta conducted with a controlled frenzy worthy of Bernstein. Falletta has won conducting awards named for Toscanini, Walter and Stokowski. That seems appropriate as her podium work draws on the legacy of all three—Toscanini's tight control over ensemble, Walter's affectionate balancing of inner voices, and Stokowski's gutsy showmanship.
The Washington Post

Simply watching JoAnn Falletta leaves one spellbound and that is before one even considers the sounds which she elicits. It was wonderful to listen as the American directed the Krakow orchestra with rare precision and attention to detail. Her every gesture demonstrated control and sensitivity. The orchestra sounded extraordinary.
Gazeta Wyborcza review of Krakow Philharmonic

Falletta's performance is wonderfully sensitive and perfectly scaled. Clearly there is some good chemistry going in Ulster between its fine orchestra and the new American principal conductor. One can only hope that there will be many more releases like this in the future, and in the superb sound provided by the Grammy-winning producer and engineer, Tim Handley and Phil Rowlands. Definitely a winner.
Fanfare Magazine
Review of Holst, Walt Whitman with the Ulster Orchestra (Naxos)

An excellent reading of this much recorded work (Dvorak, Symphony No. 9) ... The phrasing is exceptional and the contrasts between the big themes in each movement both appropriate and logical. Falletta is a very musical and perspicacious conductor who is able to sell her concept to the orchestra and elicit the proper results.
Audiophile Audition
Review of Dvorak, From the New World with the BPO (Beau Fleuve)

JoAnn Falletta, complete master of the musical material and of the orchestra itself, sculpted this sumptuous score (Marcel Tyberg, Symphony No. 2) with incisive timing, effectiveness and elegance, creating a vibrant musical fresco, compact, with wise coloration and engaged expressivity. This is a concert destined to be written in golden letters in the annals of musical life in Fiume, not only because of its high intrinsic excellence, but also because it signals the rediscovery of a composer of importance who was unjustly forgotten.
La Voce Del Popolo
Fiume (Rijeka) Croatia

Austrian composer Marcel Tyberg died in Auschwitz in 1944, shortly after creating his Third Symphony in D Minor (1943). Before his death, he entrusted his manuscripts to Milan Mihich, a physician who studied with Tyberg, who later took them to the United States for safekeeping. But the symphony lay dormant, only receiving its world premiere in 2008, after Mihich's son, Enrico, showed the score to JoAnn Falletta. She recognized its worth and programmed it with the Buffalo Philharmonic Orchestra. Now the fruits of her work are audible on this valuable new recording, shedding light on a composer who—like others who perished similarly—is only being recognized decades after his death. The excellent recording was made in Buffalo's Kleinhaus Music Hall.
Juilliard Journal
Review of Tyberg Symphony No. 3 and Piano Trio with the BPO (Naxos)

JoAnn Falletta, Principal Guest Conductor, pianist Norman Krieger, and the Brevard Music Center Orchestra worked their collective magic to create a most memorable opening concert in Brevard Music Center's Whittington-Pfohl Auditorium. Falletta's motions on the podium are of such economy they effectively direct without attracting undue attention to her. Her emotional investment in the music and personal warmth were obvious to the observer and she is a master of stylistic differentials on many levels. She is eager to bring unfamiliar music to audiences ... Falletta led the orchestra in an electrifying performance.
Read the full review.
Laura McDowell, Classical Voice North Carolina, June, 2012, Brevard Music Center Orchestra

Here the trio of soloists and orchestra under JoAnn Falletta takes a more intimate, chamber-music approach [compared to the Hall of Fame Järvi recording], one that pays special dividends in the Largo, which falls on the ear with the blissful serenity of an all-forgiving benediction. No cellist has ever played the opening strains more rapturously than László Fenyő. This is a performance of the "Triple" Concerto to cherish, not to the exclusion of Järvi, but as a different and equally rewarding way of hearing the work .... The performance [of the Beethoven Choral Fantasy] by Rubackytė, the Lithuanian National Symphony Orchestra, and the Kaunas State Choir under Falletta's direction, is as good as it gets.
Fanfare Magazine
Review of BEETHOVEN Concerto in C for Violin, Cello, and Piano
"Triple" Concerto, Choral Fantasy, Doran January 2012

The disc's centerpiece is Wieniawski's Violin Concerto No. 2, with Concertmaster Michael Ludwig as soloist. Ludwig ... threw himself into this music, and BPO Music Director JoAnn Falletta and the orchestra followed suit, and the result is as good a performance of this beautiful and virtuosic masterpiece as I think you will find anywhere. Szymanowski's "Concert Overture" jumps out at you in brilliant sound. ... The BPO, with its feel for late Romanticism, gives the music a full and passionate sound. Lutoslawski's "Concerto for Orchestra" is thrilling, with its assertive, percussive opening theme and the exotic concluding toccata, which starts deep in the basses and builds from there. Karlowicz's "A Sad Tale," recorded this past November with the Wieniawski, brings us back into lush Richard Strauss Romanticism. Four stars.
Mary Kunz Goldman, Buffalo News, January 2012)

This may have been the best we have heard the CSO play, and much of the credit goes to Maestro Falletta for her understated precision, her inspired leadership, and her willingness to let the musicians shine ... how incredibly fortunate our entire arts community is to host such a highly acclaimed conductor who is also an extremely kind, generous, and loving person.
CharlestonToday.net, January 2012

A gripping, lovingly detailed performance of Tchaikovsky's Fourth Symphony. Falletta brought a wonderfully organic feeling for both structure and phrase... the exciting music was electrifying, brasses blazing through, the finale finely balanced between manic and desperate. Falletta brought a delicious feeling of spontaneity.
Dallas Morning News

JoAnn Falletta made an impressive, dynamic, and well-paced debut with the [Royal Scottish National Orchestra]. Mendelssohn's Scottish Symphony, though big-boned in the gigantic space, demonstrated Falletta's fine control of tension and breadth.
The Herald (Glasgow, Scotland)

I spent a day with [the Buffalo Philharmonic Orchestra] in mid-March, and was thrilled with what I both saw and heard... The orchestra sounds superb—and the concert demonstrated once again the high artistic level of orchestras throughout America. And for those of us who have lived vicariously through the troubles of the Buffalo Philharmonic, I cannot begin to describe the joy and satisfaction it provided to see how thoroughly they have turned things around.
Henry Fogel, On the Record, Exploring America's Orchestras

Falletta marshaled the Philharmonic to play at the very top of its game in this difficult score [the Corigliano Red Violin]. The orchestra sounded warm-toned and tightly disciplined in Beethoven's Ninth Symphony as well. Falletta balanced fleet tempos and weighty utterance in the first two movements, eased the metronomic gallop evocatively to let melodies and expression breathe in the final two movements, drew uncommonly elegant and nuanced work from the Philharmonic Chorale, and finished off with a thrilling treatment of the coda.
The Washington Post

Falletta's splendid outing with the [Utah Symphony] in Abravanel Hall Friday certainly merits serious consideration... as music director the season after next... Thanks to Falletta's taut tempos and sure-footed direction, what came across was genuine emotion. Especially admirable was the balance of triumph and torment in the [Tchaikovsky Fourth Symphony] finale. Bottom line: JoAnn Falletta gives the most entertaining audition concert' so far this season.
The Salt Lake Tribune

Falletta, with sweeping arm gestures and obvious connection on a personal level to the depth of the music, drew out the best of every section of the Orlando Philharmonic Orchestra, balancing all sections of the orchestra with absolute mastery.
Examiner.com

Falletta is a model of efficiency and technical prowess and was always fascinating to watch. The raw quality of the cheering was of a different character than usually heard at the symphony. It was more like at a rock concert or a football game, events where Americans aren't afraid to express themselves loudly and often.
TimesUnion.com (Albany, NY)

JoAnn Falletta has a gift for programming. The Symphony Nova Scotia players ignite under a fiery conductor like Falletta (and) played brilliantly for her.
Chronicle Herald (Nova Scotia)

Falletta's passion for the night's music was evident throughout the performance, her enthusiasm spilling over into the orchestra and to the audience, which treated the performers to a number of well-deserved standing ovations.
Deseret Morning News (Utah)

Falletta really gets the big picture of the Bruckner Ninth. The huge blocks of sound were always traversed with a compensating smoothness of line and an unerring balance between the dominant string and brass incantations. Falletta's sure control made the [third movement's] many tenuous, wandering sections seem like one long, mystical musical thought process.
Buffalo News

Falletta displayed ample evidence of her precise command and engaging personality as she flawlessly sailed through a folk-infused program....
The Star Ledger

Falletta conducted a thrilling reading, with all the big climaxes so expertly prepared that when they arrived, the terror associated with death was viscerally felt.
The Virginian Pilot

Guest conductor JoAnn Falletta led the performance, joined by two guest soloists: violinist Michael Ludwig and pianist Benjamin Loeb. The results were memorable and excellent in every way.
Journalnow.com

Petite, slender and attractive, Ms. Falletta is a musical giant, leading the Symphony with bold and fiery vigor.
Classical Voice of North Carolina

The Chamber Orchestra of Philadelphia gave one of its best concerts under JoAnn Falletta... Falletta presided over an excellent performance of Stravinsky's Suite from Pulcinella... The tension [in Zwilich's Concerto Grosso] was spellbinding.
The Philadelphia Inquirer

The five compositions received exactly what they needed from Falletta and the orchestra. Finesse and charm in the [Mendelssohn Overture], expressiveness in the [Zwilich Concerto Grosso] and power next to concentration in the [Chen Yi Duo].
Telegraaf (Rotterdam)

What a triumphant return it was. Working without score, Falletta drove the [Denver Chamber] Orchestra through every grand sweep of Viennese opulence, handling those time-stretching rubatos with taste and immaculate timing, and drawing out some of the most sumptuous playing heard this season.
Rocky Mountain News

JoAnn Falletta is such a delight, both on cd and in performance. The energy levels and joy she exudes is infectious for all involved.
ClassicallyHip.com

JoAnn Falletta, the vivacious director of the Buffalo Philharmonic, was an inspired choice to conduct [the Royal Liverpool Philharmonic], maintaining the hypnotic momentum without letting [the Talbot Trumpet Concerto premiere] feel rhythmically unyielding.
The Guardian (Liverpool, England)

JoAnn Falletta led a striking performance of Berlioz's Symphonie Fantastique.
Liverpool Daily Post

Brilliance from Buffalo in Respighi's rich orchestration. The Buffalo Philharmonic under music director JoAnn Falletta is treated to warm and spectacular recording, apt for such exotica.
Respighi, Church Windows CD, Gramophone Editor's Choice, February, 2008

An absolute smoker of a performance. Conductor JoAnn Falletta captures the music's volatile emotions and youthful energy in frill measure. In short, we've struck 64 minutes' worth of Brahmsian gold from an unlikely and often provocative source.
Gramophone, Brahms Piano Concertos, Norman Krieger, Pianist, Virginia Symphony Orchestra

One of today's most talked about conductors, JoAnn Falletta, obtains highly coloured backdrops from the Royal Scottish National Orchestra and the sound is superb.
Yorkshire Post, Dohnanyi: Violin Concertos, Michael Ludwig, Violin, RSNO

All I can say is I am glad I heard this disc, for in its intelligent planning, its superb recording, and its dedicated playing it puts forward one of the best cases for Respighi's music I have heard in years. It is perhaps the sensitivity that Falletta garners from her Buffalo forces that impresses most of all. She can take her orchestra down to the merest whisper (perfectly captured in Producer Tom Shepard's recording; try "The Matins of Saint Clare"), and sustain a restrained tension for uncannily long passages.
Fanfare Magazine, Respighi, Church Windows, BPO

[Violinist Michael Ludwig, pianist Muza Rubackyte and cellist Laszlo Fenyo] strike a fine balance with the Lithuanian orchestra under Falletta's guiding hand to produce the kind of warm, bracing lyricism that makes Beethoven's music sing ... Falletta keeps the feeling of elevation buoyantly aloft ... wholly enjoyable.
Beethoven: Triple Concerto;Choral Fantasy CD, Naxos, American Record Guide Nov/Dec 2011

A recording I would readily choose over Heifetz's... Such tonal radiance and luminosity as Ludwig possesses are rare... His phrasing is so sensitive... it could serve as an object lesson to every budding violinist.
Fanfare Magazine: Bruch, Scottish Fantasy, Michael Ludwig, violin, VSO

A sort of Gershwin Concerto in F for the new millennium [that] keeps an irrepressible spirit connected with both the Roaring 20s and today's Generation X.
Audiophile Audition, Schoenfield's Four Parables (Black Box)

Everything came together thrillingly in the final movement of Rachmaninoff's 1940 "Symphonic Dances", Op. 45, and the Buffalo Philharmonic Orchestra under the baton of JoAnn Falletta ended Saturday's concert in a blaze of glory... She and the orchestra seized the music by the throat and, with superb concentration, urged, cajoled and whipped it into a seamless, continually mounting frenzy of blazing ensemble sonority.
Buffalo News

Falletta... is a skilled conductor and a smart, elegant musician.
Detroit News

Falletta led off with a vivacious performance of Kodaly's "Dances of Galanta" and closed with Zemlinsky's "Die Seejungfrau" ("The Mermaid"), in which she and the orchestra transmuted an exceptional level of musical detail into vivid and touching storytelling. The response of the audience was rapturous. A list of the dozen best American conductors today would contain several names that would also have appeared 25 years ago. But it would also now include Falletta.
Boston Globe

I happened to attend the Buffalo Symphony's concert at Carnegie Hall last Sunday, in which conductor JoAnn Falletta stirred a hard-boiled Big Apple crowd to many standing ovations and an encore. Falletta has inspired this orchestra to an impressive level, blurring the category of the Big Five. Falletta and Curtis-trained Atlanta Symphony conductor Robert Spano are shining lights on the American-born conducting scene.
Philadelphia Daily News

One of the world's leading female conductors. Under Falletta the ensemble moved briskly along with a kind of athletic élan.
The New York Times

Falletta immediately won listener's hearts... her conducting style was animated and expansive, yet full of detailed cues players need to negotiate complicated pieces of music. The results were impressive—Falletta let the music breathe, allowing passages to swell into a huge wall of sound that contrasted beautifully with quieter phrases.
Mannheimer Morgen (Germany)

The beautiful surprise of the afternoon came from with an absolutely coherent fourth Symphony of Brahms under the baton of JoAnn Falletta. The movements were perfectly sculpted with a very beautiful equilibrium and melodies that were filled with emotional but never artificial. Without a doubt influenced by the interpretations of Kleiber and Berglund in the same material, JoAnn Falletta clarified the sonority by opting for tempos that were quite brilliant.
Le Devoir—Montreal, Canada

A delightful performance [with] the unusual musicianship of Ms. Falletta who has both the calmness to create long melodic bows as well as the temperament to turn passion almost into an ecstasy of sound.
Ruhr Nachrichten (Dortmund, Germany)

Ms. Falletta is on most critics' short lists of exciting young conductors, and it's easy to see why. Her musicianship is flawless.
St. Louis Post-Dispatch

Griffes—Orchestral Works—Editor's Choice CD. Conductor JoAnn Falletta is completely sympathetic throughout and there are neatly delivered solos from many of the Buffalo players. This is a revelatory Griffes release... strongly recommended.
Gramophone Magazine

JoAnn Falletta showed such authority, such caring for detail, such tenderness, such intelligence that [Copland's Appalachian spring] seemed to open itself to reveal all of its virtues. A "10" for Falletta.
LaPresse

Buffalo has preposterously harsh winters, but it is worth braving blizzards to hear its fine orchestra. Falletta and the Buffalonians pour an ample portion of polished gorgeousness over Griffes's scores.
International Record Review

I don't know how she does it, but any new CD by conductor JoAnn Falletta—like her latest of music by Charles Tomlinson Griffes on Naxos—is a revelation.
Philadelphia Daily News

With any justice, Falletta would be a household name by now—she has done splendid work for more than two decades and brings out the best in any ensemble she takes on.
Washington Post

Widely known for her concerts with the same orchestra at Lanaudiere, JoAnn Falletta returned to us in great form (for her official Montreal debut) for a Brahms Fourth Symphony that proved yet again that this American maestra is one of the phenomena of the music world. One should take advantage of the experience of seeing her in concert at any price to witness it: such force, such authority, such virility (notwithstanding what a delicate woman she is), a network of sound that is at the same time carefully sculpted and free, and a rare degree of organic communication with the orchestra that makes us hope that she might be on the list to succeed Charles Dutoit.
Concertonet.com (Montreal)

She was best when precipitating an ecstatic moment, inspiring an emotional candidness from the players... Her performance of the Barber symphony had a Mahlerian grandeur.
USA Today

First, it proved that it could play such thick, intricate music lucidly. I wouldn't be surprised if this were the thorniest and lushest score of its size and reach that Long Beach has ever attempted. It proved, secondly, that conductor JoAnn Falletta can command Schoenberg's epic scope... innerlines, which are fitted together with the precision of a parts of a chronograph, were more clear than not, and Falletta never lost her enthusiastic sweep.
Los Angeles Times

Ms. Falletta is a demonstrative, kinetic conductor, and her gestures... achieved clear results. In particular, she brought a lovely sweep to the Elgar [Enigma Variations], and elicited not only a warm string sound but also superbly detailed wind and brass playing.
The New York Times

The orchestra musicians... seemed to relish performing for a conductor with the incisive technique, utter control and energy of Ms. Falletta... [she] had a refreshing approach—the tempos were spacious but no rubato dawdling was allowed...
The New York Times

The program presented here was... a venture reviewed quite favorably by most New York critics. I must agree with them, for the orchestra's sleek, rich, string ensemble and its bright, sparkling brass and woodwinds are most impressive, and the words "regional" and "provincial" are definitely not applicable to their art. JoAnn Falletta leads convincing performances of both works. Barber's Symphony No.1 is an impressive work, and this is a thrilling performance—incisive, well paced, splendidly played, and nicely proportioned... The Elgar [Enigma Variations] is very good also—well-organized, smartly paced, and quite well-played... Indeed, it is one of the better versions around...
American Record Guide

Although JoAnn Falletta undoubtedly had only a few hours to rehearse the London Symphony Orchestra before proceeding to the studio, the performances are impressive, with fine rhythmic precision and passionate sweep.
The New York Times

[Falletta's CDs] represent only the tip of an iceberg that Maestro Falletta is revealing to us, both on record and in the concert halls across our land. For her dedication on behalf of contemporary American music, we express our sincere gratitude and encouragement, and we acknowledge her artistic excellence with deep appreciation.
Fanfare Magazine

Falletta leads her orchestras "with clarity and precision, often producing performances that are remarkable for their combination of raw power and rare sense of proportion".
The Washington Post

Falletta was superb, bringing out the best and most clarified music from the orchestra, exuding passion for this romantic work with impeccable control.
China Daily (Beijing)

One of the most impressive, musically intelligent and professional conductors.
San Francisco Examiner

Falletta kept the orchestra beautifully in check. It was a stunning and satisfying performance, to please even the most hardened Mahlerite. Equally impressive was the Philharmonic's rugged performance of Sibelius' First Symphony—a reading full of verve and passion.
Newsday

Let your friends listen to these works [on the BPO's Griffes CD]. They will be enchanted and surprised to learn of this American music. A success that testifies once again to the excellence of the Naxos American Classics series.
ClassicsToday.com, France

No more than five seconds into her traversal of the Symphonic Fantastique... it was clear that JoAnn Falletta had nailed it. The pulse was right—flexible but not flabby, every billow, ebb and twist fitting the music organically.
San Antonio Express-News

I am not going to beat around the bush: the revelation of the evening was the guest conductor, New Yorker, JoAnn Falletta, a young woman who did not cease to astonish me by her energy, her precision, her conducting which was both supple and convincing, and which made the orchestra play in a manner that was exceptionally transparent and detailed. Once again, JoAnn Falletta captivated the audience with her confidence, and intelligent range of her conducting.
Le Soliel

JoAnn Falletta revealed herself as a genuine orchestral conductor. Her gestures were always energetic, expressive and effective, impeccably combining a rigorous beat with ample and generous gestures. With Falletta, one could feel an obvious love of the music, and the style she employed communicated every moment with the orchestra and, at the same time, with the audience.
La Presse

It must be said that the direction by JoAnn Falletta and the playing of her Buffalo Philharmonic [on the new Griffes CD] are beyond praise. This orchestra has played an important part in recording much of what is good in American music... the group is clearly one of the best orchestras in America currently.
Amazon.com

Balancing nuts-and-bolt conducting with inspired leadership is tricky. Falletta provided the right combination, giving the orchestra plenty of guidance while encouraging spirited, touching musicality.
Houston Chronicle

The concert marked the Philadelphia Orchestra debut of JoAnn Falletta, music director of the Buffalo Philharmonic and Virginia Symphony. Her baton technique is extremely clean and her elbow rhythmically eloquent.
The Philadelphia Inquirer

Falletta did a spectacular job bringing together all the different musical forces into one powerful performance.
The Daily Press

Falletta is surely destined for classical music superstardom.
Rocky Mountain News

Apparently born to conduct, she sends all the right messages from the podium. Most important, she seems to create superior playing and clarified performances from the orchestra.
Los Angeles Times

A large, attentive, enthusiastic crowd packed Alice Tully Hall, perhaps as much to see conductor JoAnn Falletta as to hear the music itself. (...) Right from the start, this was a superlative evening of intelligent yet consistently expressive music making. This (Verklärte Nacht) was a lushly textured, broadly paced reading of enviable expressive sweep. Falletta, conducting from memory, produced expansive, powerful gestures without sacrificing an iota of precision or stooping to unnecessary exaggeration. Particularly impressive was her overarching conception, so expertly conceived that the myriad tempo changes, dynamic inflections, and details of phrasing all felt into place rather than intruding like chaotic surface gestures. (...) Falletta is a major talent, one that deserves to be watched closely in coming years.
Musical America

JoAnn Falletta proved that she ranks as one of the top young conductors in the country today. Falletta's every gesture and nuance seemed to perfectly express the symphony's canvas of emotions. No detail was too much for Falletta to ask of the orchestra and the result was an object lesson in artistry. In the Turina Falletta proved she is a dramatist as well as a poet, with engagingly artful shifts of mood and a firm command of the work's rhythmic complexities. If, as rumor has it, Falletta is auditioning for the Honolulu Symphony's top job, she won scads of votes with Sunday's performance.
Honolulu Advertiser

JoAnn Falletta may be diminutive in stature, but she's a commanding presence on the podium. The most impressive part of Saturday's program was her dramatic and expansive reading of the Symphony No.5 by Prokofiev. Her deliberate tempo in the first movement gave the music an extra-weighty flow, culminating spectacularly in a broad, muscular and percussive climax. This overall measured pace was ever-flexible on a local level, however pointing up details in the massive architectural design. The orchestra played brilliantly throughout, with responsive energy, clear textures and alert give-and-take.
Los Angeles Times

[The Verdi Requiem] was a powerfully dramatic and well-paced account, sharply detailed and with all the forces integrated. Falletta achieved a rare and paradoxical state of impassioned resignation—a telling performance of a major monument.
Los Angeles Times

"Maestra walks softly, carries powerful baton..." Standing in front of the Sacramento Symphony conductor JoAnn Falletta proved to be a tower of power. With bold but economic gestures, strongly focused concentration and a pure, visceral understanding of the music, the guest artist pulled stellar performances out of the willing orchestra. The audience's standing ovation at the evening's end was a completely natural, spontaneous and deserved response.
Sacramento Union

Throughout the program, she [JoAnn Falletta] showed a fabulous baton technique. The absolutely clear and amazingly clean way she used that stick (to say nothing of her intensely expressive left hand) left no doubt as to what she wanted.
New York Daily News

If there is justice, JoAnn Falletta should become a household name in the near future.
Byron Belt, Newhouse News Service

Falletta's floating, transparent textures were ideal... her podium manner is compact and efficient, and she underlines detail and stirs up drama with a simple tip of her baton.
The Tampa Tribune

Performances of such devotion and intensity are rare today, even in the musical capitols of the world. But when they occur, they are no accident. The gifted Falletta reminded me of the work of the late Italian conductor Guido Cantelli. She has the concentration, musical honesty, culture, clear beat, lyrical grace and force to inspire musicians to play better than they thought they could.
Sarasota Herald-Tribune

[Falleta's debut] was an auspicious artistic event that placed Falletta among the most promising conductors of her generation. The maestro's presentation of Bartok's Concerto for Orchestra was impressive by any standard. Falletta, who conducted that technically intricate and emotionally embracing music without a score, knew the music cold, inside and out. Time and again, she demonstrated her thorough grasp of Bartok's idiom, his point of view, his often-elusive purpose.
Milwaukee Sentinel

[JoAnn Falletta] is obviously a young conductor of unusual technical and communicative resources. If Schönberg performances could always reach such a high level of excellence, this music might yet sneak its way into the standard repertory.
New York Magazine

When JoAnn Falletta finished conducting the rousing Dances of Galanta, the Aspen audience gave her the full treatment—standing ovation, stamping, whistling, and whoops of joy. I myself was tempted to shout, "Holy cow!" Falletta virtually danced through the piece, inspiring the Aspen Symphony to a roaring performance that nearly tore the seams out of the music tent.
Colorado Springs Gazette Telegraph

Judging from the results she [JoAnn Falletta] achieved with the Tucson Symphony, it's clear that she is poised on the edge of a major, major career as a leader of orchestras. (...) Intelligent in her concepts, expressive in her technique and exacting in her execution, Falletta imbued the Franck Symphony with stunning brilliance.
Arizona Daily Star

[JoAnn Falletta] is, quite simply, the kind of conductor who can inspire almost any group of musicians. Her baton technique is graceful and utterly communicative, her gestures sweeping and poetic but lacking the slightest sign of exaggeration. Watching her is like watching Leonard Bernstein.
Newsday

Falletta and the Denver Chamber Orchestra were incandescent. This was Mozart of grand power and brilliant ideas realized with dramatic flair.
Denver Post

As guest conductor of the Tucson Symphony Orchestra last night, Falletta made the orchestra sound as never before. There was a sense of passion and togetherness. Most of all, there was an articulation of nuance and overall scope that added up to thorough excitement. (...) Her stickwork was exemplary: a succinct representation of metronome-perfect pulse, phrasing and dynamics. The smoothness of transition in tempi she displayed were among the best this reviewer has heard.
Tucson Citizen

Falletta strikes the ideal balance between energy and expressivity. She is heartfelt without being sentimental, passionate without being overbearing. She has highly developed musical instincts, intelligence, and a clear beat. She exudes confidence and she is committed to her art.
Orange County Register

JoAnn Falletta's leadership of the orchestra elevated the art of accompaniment to new heights. Especially in the slow movement, her grasp of the unfolding emotions, and the orchestra's unerring response to her direction made the soloists sound that much better.
Milwaukee Journal

[JoAnn Falleta's debut with the Denver Symphony] was a rare and extraordinary event—the emergence of a new superstar!
Colorado Springs Gazette

[JoAnn Falletta] presided over her charges like the most compassionate of generals, conducting with a crystalline beat, a canny eye for entrances and releases, and an overall sense of daring.
San Francisco Examiner