Since stepping up to the podium as Music Director of the
Buffalo Philharmonic Orchestra
in the fall of 1999, Maestro Falletta has been credited with bringing the Philharmonic to a new level of national and international prominence. Highlights of the 2012-13 season include the release of two new Naxos CDs, Tyberg's Symphony No. 2 and Gershwin's Catfish Row, and the recording of its 16th Naxos disc, Gliere's Symphony. No. 3. Performance highlights include the Orchestra's debut at the Saratoga Performing Arts Center and a concert at Carnegie Hall in May 2013 as part of the Spring for Music Festival.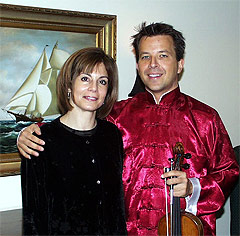 Falletta and Michael Ludwig, BPO Concertmaster   (Photo: John Lindberg)
Under her direction, the Buffalo Philharmonic has become one of the leading orchestras for the Naxos label and one of the most recorded orchestras in America. In 2009, for the first time in its history, the Buffalo Philharmonic Orchestra won not one, but two prestigious Grammy awards. The BPO won Grammys for the
Best Classical Performance
and
Best Classical Composition
for its John Corigliano:
Mr. Tambourine Man: Seven Poems of Bob Dylan; Three Hallucinations
CD, which was released in 2008. Additional accomplishments include five Grammy nominated discs, numerous ASCAP awards, including the top award for Adventurous Programming in 2004 and 2011, an acclaimed Carnegie Hall performance in 2004, a highly successful tour of Florida in 2010, the release of nine recordings on the orchestra's own Beau Fleuve label, the founding of the
JoAnn Falletta International Guitar Concerto Competition
in partnership with WNED, numerous broadcasts on NPR's Performance Today and Symphony Cast, international broadcasts through the European Broadcasting Union, and a national broadcast on PBS television.  
By being innovative and flexible in its approach to changing economic conditions, and stressing artistic excellence, the BPO is continuing to build its reputation as one of the nation's, and the world's, great symphony orchestras. Under Falletta's tenure, subscription numbers have reached record levels, the Orchestra's budget has increased 25 percent, educational audiences have doubled, the Orchestra completed a successful $34 million endowment campaign, and the popular summer Artpark series has been reestablished. The
JoAnn Falletta International Guitar Concerto and Composition Competitions
have brought international acclaim and attention to the classical guitar, the Buffalo region and the BPO.  
Both on and off the podium, Falletta is a dedicated advocate for the BPO and the Buffalo region. She was named Buffalo's most influential community leader, and Buffalo and Erie County's Artist of the Year, and was voted a member of the Buffalo Music Hall of Fame and the Western New York Women's Hall of Fame. Falletta has received twelve honorary doctorates, the Erie County Historical Society's Red Jacket for outstanding community service, the Theodore Roosevelt award, the Foundation for Jewish Philanthropies Award for outstanding leadership in the Tyberg Musical Legacy project and the Human Relations Award from the Buffalo/Niagara Chapter of the American Jewish Committee. Most recently, she was presented with the Chancellor Charles P. Norton Medal, the University of Buffalo's highest award.